Meghan McCain Stops Me in Kroger's to Ask if I Work Here
I have an early memory of my father twisting my wrist
and whispering hot into my ear to keep my hands
out of my pockets in the store.

Don't give them another reason to look at you.

I wish I knew what it was like for men to tell me what they wanted without fury.

My father probably didn't mean to wrench
me, but fear is so much quicker than any of us
know. Maybe it was better for him to shock me clean
than a shaky white boy with a gun sweating against his palms.
Poem in Which the Author Apologizes

I'm giving away my bad blood. cleaning up my act. at last, 
this fruit-flied trash takes itself out. my delicate unbirth into palatability.  
maybe the others are right—I've been too brutal,
heady with revenge, should've taken his deadlight love
more gracefully and thanked him for the terror.
I hope I can be forgiven now that I throne
elegantly, uplifting every desolate man
too drunk on his name's taste to do it himself.
please accept my flattening to dishwater. I've found beauty
in his godhead imitation, learned to good sport.
a grateful massacre. sanctified into canvas for crafted masculinity, 
I break open my knees, wretch this jaw, sturdy
underneath him, in the kitchen, always waiting
by the phone. aren't you glad I finally decided to woman?

come and marvel at all this pearlboned pink
I've unearthed. so worthy of his lonely cruel.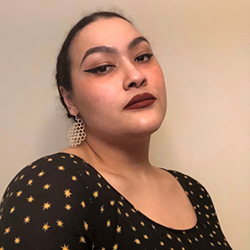 Simone Person is a Black queer femme and two-time Pink Door Writing Retreat fellow. They are the author of Dislocate, the prose winner of the 2017 Honeysuckle Press Chapbook Contest, and Smoke Girl, the poetry winner of the 2018 Diode Editions Chapbook Contest. Simone grew up in small Michigan towns and Toledo, Ohio. She can be found at simoneperson.com and on Instagram and Twitter at @princxporkchop.