Transfiguration
His clothes became dazzling white, whiter than anyone in the world could bleach them. (Mark 9:3)
It's a recipe to bury
a son's face you've known
for almost three decades:
First, he covers any reminder 
of how a mortal can hurt – every scar vanishes 
with the right shade –
& imagines your hand behind the brush
as he beats blush
onto the apples of his cheeks.
Then, he colors his eyelids with ash,
lines them sharp & dark
as the night that will take him in its bat wing.
He watches for the haunting of your gaze
from the corner of the room before
dabbing on phantom's shimmer.
Next, he dyes his lips with a vampiric oath
to suck the life & promise
from a world outside bathed in neon.
Finally, he lets a dress hug him
like a shroud & drapes it down,
grazing the fang of a stiletto.
He peeks at the light escaping your bedroom,
before disappearing out the door. She flies
for the kingdom she was denied,
but no longer tonight.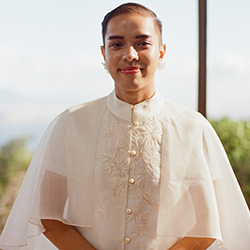 Jose Luis Pablo or "Nico" is a genderfluid poet and a communications manager for a non-profit. Their work has been published in Likhaan: The Journal of Contemporary Philippine Literature, Cordite Poetry Review (Australia), My Gay Eye (Germany), 聲韻詩刊 Voice & Verse Poetry Magazine (Hong Kong), Busilak: New LGBTQ+ poetry from the Philippines (University of the Philippines Press), Breakwater Review(USA), and elsewhere, as detailed in joseluisbpablo.wordpress.com. Nico was awarded by the Carlos Palanca Memorial Awards for Literature in 2018 and was a finalist for the 2020 Peseroff Poetry Prize. They are based in Rizal, Philippines.