beestung is currently closed to new work until March 10th, 2024.
Who are we?
beestung is a quarterly online micro-magazine for non-binary, genderqueer, and two-spirit writers and readers, with an emphasis on intracommunity sensibilities. beestung resists the canon and all forms of bigotry. We're particularly interested in exploration and the expansiveness and possibilities of writing and art.

beestung considers poetry, fiction, creative nonfiction, hybrids, and art by creators who fall under the non-binary umbrella, genderqueer umbrella, and two-spirit umbrella. Multilingual work and work in translation is welcome. Historically underrepresented writers are encouraged to send work. beestung pays a $20 honorarium to writers and artists selected for publication.
Who is non-binary? Who is genderqueer? Who is two-spirit?
That's basically up to you. If you're unsure whether to send in work, please email beestung@sundresspublications.com.
How do I send in work?
Please email all pieces for consideration to beestung@sundresspublications.com along with a brief biographical note.

There is no reading fee. Simultaneous submissions are encouraged, and we cannot accept previously-published work. Please expect at least 3 months for a response, though we aim to be quicker.

As we are a small quarterly publication, you'll be informed if your work is long-listed for a future issue. If your simultaneously-sent work is accepted elsewhere, please let us know. We read work on a rolling basis.

Please send writing in either .docx or pdf format, and art as low-resolution samples in either .jpg or .png format.
We do not accept AI-generated or AI-assisted writing or art.
Questions?
Please email beestung@sundresspublications.com.
We want to read your writing that stings, and your writing that drips with sweetness. Your writing that buzzes.

---
Who are we?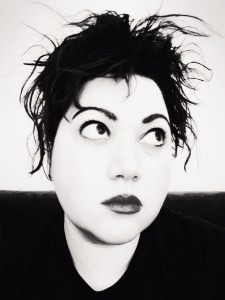 beestung is edited by Sarah Clark and is based in Philadelphia, PA.
Sarah Clark is a mad crip genderfuck two-spirit enrolled Nanticoke editor, writer, and cultural consultant. They are Editor-in-Chief and Poetry Editor at ANMLY, Editor-in-Chief at ALOCASIA: a journal of queer plant-based writing, Co-Editor of The Queer Movement Anthology (Seagull Books, 2024) and the Bettering American Poetry series, a former reader at The Atlas Review, and a current Board member and Assistant Editor at Sundress Publications. They have edited folios for publications including the GLITTERBRAIN folio and a folio on Indigenous & Decolonial Futures & Futurisms at ANMLY, folios on Sound Art, "Desire & Interaction," and a collection of global indigenous art and literature, First Peoples, Plural at Drunken Boat. They were co-editor of two folios at Apogee Journal, #NoDAPL #Still Here folio, and their series WE OUTLAST EMPIRE and Place[meant]. Sarah is a former Executive Board member at VIDA and former Editor-in-Chief of VIDA Review, where they curated a series of essays by writers outside of the binary, Body of a Poem and the interview series, Voices of Bettering American Poetry. Sarah freelances, and has worked with a number of literary and arts publications and organizations, including the Best of the Net anthology, contemptorary, Curious Specimens, #PoetsResist at Glass Poetry, Apogee Journal, Blackbird, the Paris Review, and elsewhere.