After Snowdrops
Do you know what I was, how I lived?
—Louise Glück

                                                        I did                                         not
                                                        know                                       what
                                                                                           I was
                                                        I refused                            
                                                        to see
                                                                                           how I lived
                                                        I wanted
                                                        to                                             not
                                                        know what                          despair
                                                        was                                                          but now
                                                        I see                                                         it has been
                                                                         all
                                                                         over                                        my skin
                                                                                                                          light
                                                                         rot
                                                                         spots
                                                                         portend
                                                         time                                                                      bruise
                                                                                                                                         I expected
                                                                                                                          to survive
                                                         at least                                  until winter
                                                                                                          meaning
                                                                                           snow                                                       
                                                         drops
                                                                                           signals                natural end
                                                                                                                          my
                                                                         life                                          suppressed
                                                                                                                          now
                                                                         I do
                                                                                                                                           not
                                                                         expect to
                                                                                                                                           survive I must
                                                                         wake
                                                                         to this fact                                             dry
                                                                                                                                            earth
                                                                                        forgetting
                                                                                        my body
                                                                                        as                                                a boy
                                                                                                                                            I was
                                                                                        afraid                                        yes
                                                                                                                                            I was
                                                                                        among the                              unfamiliar
                                                                                        stalks
                                                                                        and grasses                            strange
                                                                                                                              meadow
                                                                                                                              I could
                                                                                                          not                           see I was
                                                                                                           a part
                                                                                                                                             of
                                                                                                                                             the expanse
                                                                                                           I said
                                                                                                           I refuse
                                                                                                           was                                          mute
                                                                                                                                                             my own
                                                                                                           hand covering
                                                                                                                                          melody
                                                                                         heard it                                 in
                                                                                                                                          the distance
                                                                                         my head
                                                                                                                         echoing
                                                                                         concrete
                                                                                         chutes                  now
                                                                                                                         as not
                                                                                                                         a boy                    I am
                                                                                                                         among                 you
                                                                                                         a                                             battered
                                                                                                         garden
                                                                                                                                         refusing
                                                                                                                                         to release
                                                                                         but forced
                                                                                         into stasis                                          the
                                                                                                                           harsh                  light
                                                                                                                                                         changes
                                                                                                                                                         it
                                                                                         like                                        it changes me
                                                                                                                                         makes
                                                                                                          my hair
                                                                                                          grow                    wild
                                                                                                          stubborn
                                                                                                          as it finds                            new
                                                                                                          beauty
                                                                                                                           yes                         risk
                                                                                                                           yes                         joy
                                                                                                                           even                      in
                                                                                                                                         this
                                                                                                           evening
                                                                                                                                         wind
                                                                                                           raw
                                                                                                                                         final
                                                                                                           finally
                                                                                                                                         new
After Matins
Unreachable
—Louise Glück

we keep ourselves
unreachable
exiled from
the heaven
on offer
in its place
replica of expansiveness
less full
of beauty
without
alternative
flesh
authors
its own
worship
nature
returns
what it
takes
only after
having
transformed
it
Artist's Statement
These poems are taken from my manuscript After the Wild Iris, a full-length response to Louise Glück's The Wild Iris. I love Glück's book, but as I've returned to it over the years, it's begun to feel increasingly unconnected to the world I know. For one, it's unreservedly straight and cis. For another, it operates under the assumption that the natural world will infinitely renew itself in the yearly cycle of seasons, a prospect that feels increasingly foreign as our environment spins towards catastrophe. I began to write, searching for a form that could hold my experience of multiplicity and reflect the often fragmented experience of living in the shadow of looming climate disaster. I wanted a form that could be read in multiple ways, that could hold a variety of meanings and realities within a single poem.
Each poem can be read top to bottom and left to right, but is also broken up into separate pathways, allowing fragments to cohere into new ideas, images, and narratives. The reader must navigate through these, triangulating various threads of meaning. To me, this is where the poem lives, not in any single strand of text, but in the action of holding various fragments together into a momentary and unstable whole.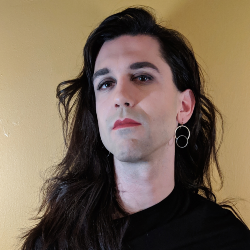 Iris McCloughan is a nonbinary trans* writer and artist in New York. They were the winner of the 2018 Stanley Kunitz Memorial Prize from American Poetry Review, and are the author of three chapbooks, including Triptych (2021, Greying Ghost) and Bones To Peaches, selected for the 2021 Robin Becker Series by Seven Kitchens Press. Their writing has appeared or is forthcoming in juked, jubilat, American Poetry Review, and ANMLY, among others.