For the past decade, I have been building a practice of double exposures, dominantly through film. But for the past few years specifically I have been focusing solely on double exposures that also twin as self portraits, in order to explore the many dualities of self and subjecthood that I experience—as queer, as twin, as nonbinary, as mixed race, as one who is in the process of healing and also while holding the scars of trauma.
My lived experience as a mirror twin and as an identical twin has informed much of my creative practice, both in writing and in hybrid arts, as well as how I engage with the world. I had been writing seriously for almost seven years before I would understand just how integral that experience was and continues to be in almost every way.
The summer before my thesis year in my Master of Fine Arts program in Poetry, I attended a seminar by a fiction writer who guided us through an exercise using the work of Lydia Davis. What came out of that exercise were the first lines I had ever written about being a twin. It occurs to me only now that in addition to having dealt with passing as white, even though I am biracial and identify as a person of color, and passing as cishet, even though I identify as queer and nonbinary (this was a journey I would undertake a few years after taking this seminar), I had also passed as singular.
Many people in my life always imagined that they were supposed to have a twin, or they had always desired a twin, and that desire or vision came with many projections of what they hoped twinning would be. I kept to myself what twinning really was, and took on their projections (before many years of therapy helped me to stay centered in my own experience and reject others' projections of me and my twinned state and self). And so, with that seminar, I began to uncover the doubling and halving that I had experienced my entire life, perhaps even in the womb.
My first queer relationship was intrinsically tied to the beginning of my photographic practice, even though I had explored taking photographs in fits and starts for years before. She was a photographer, and we fell into one another after I modeled for her and connected to a part of myself and my body in a way I never had before. Although a lot of pain and confusion surrounds that first queer pairing, the experience was an incredibly formative one for me, and brought me fully into my creative practice as a visual artist, and helped me find a framework for exploring the many ways in which I witness and participate in the world as a person who is also half, who is also double.
Although I've taken double exposures using 35mm (and I've also recently experimented with taking them digitally), the photos in this series were all taken using a Polaroid camera. Artistically, the Polaroid offers a kind of push and pull against the control of what the camera will output. Not only is there the doubling of the two exposures that rub against each other in the same frame, but there is also the image of myself as I have imprecisely framed the shots in my own mind, and what the camera offers instead. Those tensions do not feel altogether different from my own understanding of myself within and apart from my twin sister.
One summer, I went to see a contemporary ballet performance with a friend. As I watched this particular dancer on stage, I felt a kind of discomfort at seeing my twin's likeness before me. During intermission, my friend leaned over and squealed that I looked just like the dancer that resembled my twin. It was in that moment I realized that I never see myself in another in the world, because that other in the world has always been the twinned body that has grown up alongside me. I believe that these double exposures offer me a similar interrogation into the tethering of the outward appearance of the body and the self. It is a project that not only explores the self, doubled, but also what it means to be doubled, and to try to find the singular self that also represents the doubled experience that will never be far from me.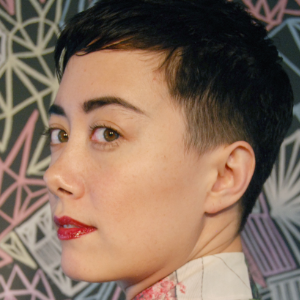 Addie Tsai is a queer, nonbinary writer and artist who teaches courses in literature, creative writing, dance, and humanities at Houston Community College. She collaborated with Dominic Walsh Dance Theater on Victor Frankenstein and Camille Claudel, among others. She is the author of the queer Asian young adult novel Dear Twin. Addie holds an MFA from Warren Wilson College and a PhD in Dance from Texas Woman's University. Her writing has been published or is forthcoming in Banango Street, The Offing, The Collagist, Territory, The Feminist Wire, Nat. Brut., and elsewhere. She is the Nonfiction Editor at The Grief Diaries, Senior Associate Editor in Poetry at The Flexible Persona, and Associate Fiction Editor at Anomaly.