// EXCERPT FROM HOUSE //
1THERE IS SOMETHING IN MY HOUSE. I KNOW THAT'S INCREDIBLY VAGUE & NOT VERY HELPFUL. I WILL NOT ELABORATE. I WILL NOT BE CONSTRUCTING ANY GRAPHS. 2FOLLOW THE SIRENS, IF YOU CAN. 3I IMAGINE THE PIPES CLOGGED WITH MUCUS. I IMAGINE DEER GNAWING IN THE WALLS. 4SAFE BEHIND MY LOCKED DOOR, I'M FREE TO BE UNSAFE. 5I'D LIKE TO BE ABLE TO SAY THAT MY HOUSE IS A UTOPIA, BUT IT'S SIMPLY NOT POSSIBLE. NOT THE RIGHT KIND OF NATURAL LIGHTING. NOT THE RIGHT KIND OF TREES. I SOMETIMES SEE PEOPLE WANDERING THROUGH MY HOUSE. I ASK THEM ABOUT THE RIGHT KINDS. BUT NO ONE SEEMS TO KNOW. NOT THOSE, THEY OFTEN SAY, & THEN DEPART. INTO THE DEPTHS OF MY LOWLY HOUSE. FURTHER. NO, FURTHER THAN THAT. LOOK, JUST KEEP WALKING STRAIGHT. I'LL TELL YOU WHEN TO STOP. I'LL TELL YOU WHEN I LOVE YOU. 6I LOVE YOU. 7I FIND A SPARE ROOM FILLED WITH LETTERS & NONE OF THEM ARE ADDRESSED TO ME. THIS COULD BE THE SOMETHING IN MY HOUSE. THE REST OF MY DAY IS SPENT RIFLING THROUGH THEM. LEAVING THE LETTERS UNOPENED & SIMPLY READING ALL THE NAMES ON THE ENVELOPES. HOLDING THEM ONE-BY-ONE OVER MY NAME & TRYING TO FEEL A LITTLE SOMETHING. SO NICE TO HAVE GUESTS OVER. 8THIS HOUSE IS A CAVE. THIS CAVE IS ALL THE RAGE. I THINK OFTEN OF THE DARK. WHAT MY BEDROOM DOES WHEN NO ONE'S LOOKING. I PUT THINGS IN ROOMS & SIT & WAIT FOR THE ROOMS TO LEAVE ME. IT'S USUALLY BETTER THAN HOPING THEY'LL STAY. 9I KISSED AN ANGEL & STOLE THEIR HALO IN THIS HOUSE. I AM NOT AFRAID OF YOU. JUST YOU TRY SOMETHING SLICK. I'LL BITE DOWN ON THE HOLY LIGHT & GROWL, EVEN AS IT BURNS MY FACE OFF. I LOVE YOU. & I WILL GROWL EVEN AS I AM LOVING YOU. 10SOMEONE STOPS IN THE HALL OUTSIDE MY DOOR TO LISTEN TO MY FAILURES & IT DOESN'T EVEN PHASE ME. 11AT NIGHT, I TREAD THE DREADED COLD FLOOR TO GET TO MY DREAMS. I KNEEL IN THE CHAPEL OF MY HOUSE. I FALL OVER DEAD. I GO STRAIGHT TO VOICEMAIL. I DON'T UNDERSTAND. I DREAM. & NO ONE KNOCKS, OR TELLS ME OTHERWISE. 12A SYNONYM FOR DREAM IS [House.] THIS COULD BE THE SOMETHING IN MY HOUSE. THIS KNOWING. 13A CANNON GOES OFF SOMEWHERE OUTSIDE OF MY HOUSE. NO, A DOVE. A DISAPPEARANCE. AN AUDIENCE, ENTRANCED. IT MATTERS NOT TO ME WHICH ONE. I PEER BETWEEN MY HEAVY CURTAINS, AS IF TO SAY, YOU'D NEVER CATCH ME OUT THERE IN THE SUN WITH THOSE SINNERS. OH NO. MY SINS ARE FOR ME & MY HOUSE. I WILL BATHE IN THEM & LET THEM RAVISH ME, BEHIND THESE CLOSED DOORS OF MINE. DO YOUR WORST. I WILL COME OUT WHEN I AM BEYOND ALL HOPE, TO SMILE SWEETER THAN ANYTHING YOU HAVE EVER KNOWN. 14LOOK UPON ME & THEN LEAVE ME ALONE. 15YES. IT IS AS IF I AM SAYING THAT, WHAT I JUST NOW SAID. I MEAN, CAN YOU IMAGINE?
---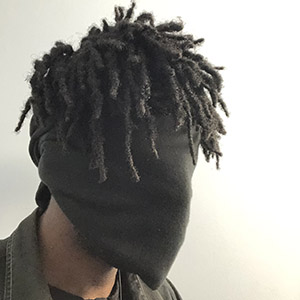 Eleanor Eli Moss is a menace, & can be found wandering the Internet in a deranged stupor @fanghoneyy.