Church Gossip
Twist me, why don't you,
a wet towel between your hands
wrung out onto a peeling linoleum floor.
Whisper that I need prayer
for a fast marriage to a god-fearing husband
and babies crawling on my back.
Make me put on a skirt, grow my hair out,
dedicate my life to daily sermons
like some goddamned saint, give
servers gospel tracts instead of tips,
burn all my good vinyl.
Choke me until I recant
and reclaim your bitter god.
Baptize me in saltwater.
Shake me until the tattoos
fall off my chest.
See what good it does you.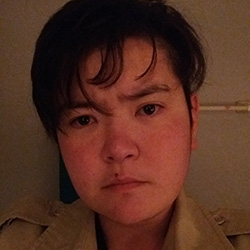 Soon Jones is a Korean American lesbian poet, fiction writer, and failed missionary from the rural countryside of the American South. Their work has been published or is forthcoming in Westerly, Typehouse Literary Magazine, Moon City Review, and Emerge: Lambda Literary Fellows Anthology. They can be found at soonjones.com.