I am watching her on the internet like an ex.
The famous white male poet at the poetry reading who during the first BLM Movement said there was nothing left to say said I should write more love poems, he said, That's what Eileen is so good at, That's what Adrienne was so good at.
All the white men's books stuck on the shelves of closed stores, coughing
Listen to the
behind the paywalls of song, sounds of the
their voices dim pages
& dimmer—I'm listening to my pulp
Of the
Devoured
country cringe. Cringe
& scroll
& forget where she got that [cotton garment] forget
If she ever really knew you
If you ever really knew her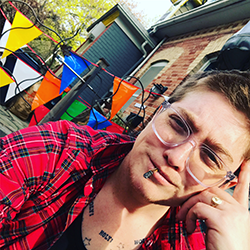 R/B Mertz (thee/thou) is a trans/non-binary butch poet and artist. They wrote the memoir Burning Butch (Unnamed Press, 2022), the essay, "How Whiteness Kills God & Sprinkles Crack on the Body," the foreword for John J. McNeill's Freedom, Glorious Freedom: The Spiritual Journey for Gays, Lesbians, and Everyone Else, and many poems, including "(We all end up in) the CAN," published by American Poetry Journal. Mertz taught writing in Pittsburgh for eleven years and was honored to be a finalist for City of Asylum's 2020-21 Emerging Poet Laureate of Pittsburgh. On January 1, 2021, Mertz left the US for love, and they now reside in Toronto, Ontario, traditionally the territory of many nations including the Mississaugas of the Credit, the Anishnabeg, the Chippewa, the Haudenosaunee, and the Wendat peoples.