Can you speak?
Can I pretend?
only if you do it kindly
Tell me about your childhood
the silvery lining between living muscles pulled taught and tighter
and tighter
and just as it comes apart
it reflects your face like that
except it's your mother
Do you love your mother?
i am my mother
Do you hate your mother?
there is a softness in it rotten, then sweet
Tell me about your political views
like anyone else, really
i am an honest american
the blossoming democracy of cause and effect and its feuding monarchies
Does it hurt when you die?
i beg your pardon?
When we step on you?
Harootunian 5
oh, death
the smaller you get
the more the grass looks like the trees the more the blue looks like the sky death is so far above
there is a softness in it
bubbles on the wind through a child's wand splitting and merging and popping
drifting off
like that
except it's your mother
does it hurt when You die?
oh
have You done it before?
I'm not sure
then pretend like me
There is a softness in it
sleep, then sunrise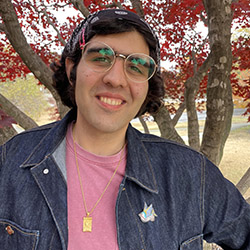 Vartouhi Harootunian (they/them) is a nonbinary librarian living in the American southeast. Their work is upcoming in Screen Door Review, Dear Politicians, and appears in other publications. They enjoy writing about humans, nonhumans, and the weird tragedies that happen in the borderlands between the two.