this poem is a movie
starring / Octavia Spencer and me both / we ride
down I-75 in a drop / top Jeep / she ain't no mammy /

Nah / she a natural / siren / and I'm only / half girl
her lipstick / magenta / mine the color / of the moon

this a movie we // don't die // in or escape
a plantation / in or watch someone else fall

in love / in / we both get the girl / we both the eye
candy / we both natural / sirens / and I'm only / half girl

/ Octavia ain't worried / 'bout the patriarchy
Nah / the music cues / she just take off / gold bars

in our backseat / yeah I said gold / bars / who
said we / wanted to be / some bankrupt / hero?
ode to olivia pope, the h.b.i.c.
first of all, yassss queen. can't nobody
say you don't look like you burned a pyre
or two. like you our only president. this is a black
woman with the confidence of an average white man.
We always gotta hold our breath. Wait
our turn. Lift somebody's broke son up to our level.
Be like God [the invisible version] – but you more like Goddess
[the run up a check version]. Remember when you bludgeoned
a man with bare hands? Boss shit. You decide fate
in a cape and heels. Use men and trust no one.
And these niggas BIG MAD. Tell 'em fuck the white
hat. I do it better than all you niggas. Be selfish.
Be the villain. Tell Fitz you too busy for the sixth month straight. Take your fists
and stiletto nails and turn them into wolves.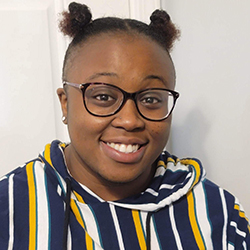 dezireé a. brown is a Black queer nonbinary Pushcart Prize-nominated poet, scholar, and sjw, born and raised in Flint, MI. They are the winner of the Betty Stuart Smith award from the University of Illinois in Chicago, where they are currently a Ph.D. candidate in the department of English. They were a Quarterfinalist in the 5th Annual Screencraft Screenwriting Fellowship, often claiming to have been born with a poem written across their chest. Their work has appeared or is forthcoming in Berkeley Poetry Review, Hobart, ANMLY, Bayou Magazine, and the anthology A Garden of Black Joy, among others.