Shot #7
When I think of women, I think of K's long Black hair. Though store-
bought, it was laid as if it wasn't. How her body flowed on dancefloors
like shame wasn't a factor, as if every factor in the world didn't exist.
& then I think of existence. Do I deserve it after the things that I did
to K? The deception, the dumping, the trauma I've given to her?
How trauma makes a broken record of us. How the boys did
what they did when I wasn't old enough to know they do whatever
they want to. How is this my first time bringing pen to paper about it?
How "rape" feels too explicit of a claim even 20 years later. I don't speak
to K anymore, but I do flinch when my lover trusts in me too much.
I fear that the breaking will hit her & turn into a wound like the ones
I go to therapy for. When I think of therapy, I think of all the sessions
I've spent on K. When women in my life spend their labor on me—
my lover, my therapist, and K— I think of history. My growing
mustache doesn't mean I must repeat it.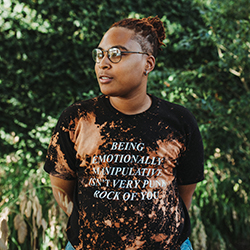 KB is a Black queer genderless miracle. They are the author of the chapbook HOW TO IDENTIFY YOURSELF WITH A WOUND (Kallisto Gaia Press, 2022), winner of the 2021 Saguaro Poetry Prize. Follow them online at @earthtokb.