the thing about scenery is (or Sandy's hands)
(love poem for Mary & Sandy)
one day last November, talking non-stop, Nancy told about a meal she had to
make for a big family party, she bragged everyone could eat it – frozen meat
balls, bottled mild tomato paste mixed with generic grape jelly for the sauce
and "you're invited" she said, as i stood traumatized silent thinking gross,
nasty, inedible, feloniously criminal from the very dead very processed
frozen beef by-product, yuk, eugh, no no no and i'd found a long hair of her
mom's in some pickled cucumbers no no. shock and denial pushed me

to a memory of Sandy's hands meatballs lovingly and carefully made,

patted perfect flirting with me – her turnout – saying "Sit down; talk to Mary! Relax.
Have a drink (meaning "Stay right here. Look at me. Let me love you.") so i had to
wander near her, deep smell her sauce slow-simmered for at least 4 hours, it smelled
rich, inviting, pretty-delicious with real tomatoes, basil, onions, mushrooms, all
handpicked by Sandy selected by her perfect femme love for Mary her juice all natural.
Cooked in a large pot on low heat, fresh salad ingredients placed
artfully in bowls & plates so each could satisfy her own taste there in the

Fruit Belt in Buffalo, NY (Fall 1969), where most of the trees had died. Their house on
Cherry Street with one tree, a small two-story sweet house
planted in concrete and more little houses outside, but inside,
magnificent and grand. permanent and filling, since then.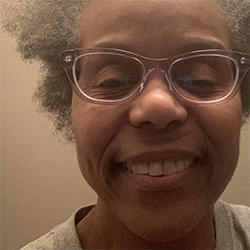 doris diosa davenport. Pronouns: person / per (72 year old Affrilachian, working-class bi-amorous lesbian-feminist. for starters).  12 books of published poetry. Literary & performance poet, writer, educator. Born & raised on Cherokee Homeland (colonized as Cornelia, GA). My life is about the powerful transformative *possibilities* of literature and truthful communications.