Drunk Rebel
Today, mum would probe my mental health,
& I'll have no demons to show her.
and I'll know she is forcing it, the way she believes in this thing.
the way she toughens breakfast with an eye for therapy.
I have nothing against unleavened bread & milkshakes:
mushroom whites that pours into my cheeks,
& the smooth chaos of it.
I just can't bring myself to making u-turns,
trading grief for a luxury of serviette,
saying nothing of dark littluns shoving at my chest,
as I break words into pills for a distinct good.
I have relatives staged to the peeled block next to my room,
ears straightening the walls in search of their black sheep.
I feel so worthless in their gaze,
a rag doll to middle fingers.

for those treats I didn't go,
I learnt to drive nuts into a plywood,
knock it into four corners to improve the sleep in my eyes.
I learnt the symptoms behind this,
what breaks inside of me.
the ruin, & how it makes me brief.
my brother knows to hype my prose poems in their queer state.
that alone is twice a therapy
to predicting which is my favorite poison,
when I myself bears a naked brand.
Stamina
smash my teeth with stone fruits/ milk the raw sugar
from my battered mouth/ shred tongue lose like deciduous news/
the white forecast/ wintering in cold blood/
serpentine jaw at gum baptism/ a kill of incensed wet as throat piece/
swirl/ skip gravitational force/ words are hurled welkin aiming for different worlds/
rob the sky off it's weathered punctuations/ recall the mastering of English
on novena & forced hymns/
the spotty chaplet on my numb thumb is full stop enough to end this body/
arms stretched as in hyphen/ limbs like indentation
plies the margin of beads to separation/ rig the bloody result/
splice my midriff to a narrow cut/ ballot a sound for neck care/
mouth breathe— till I bring susurration/ thump/ brand me a breeze gadget wield up/
thingamajig of due brilliance/ nameless in airier form/
fog my cheeks for utterance/ watch the fume self breed/
thrill my lungs to negative surges/
whatever morphs halfway/ bridged & stiffly informed in short circuits/
span my airwave to outlive the wreckful sirens and wailing of seaports/
my kind of hunchback/ studded with welts.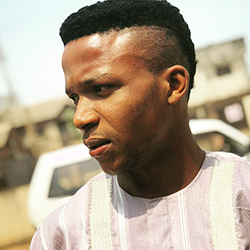 Nnadi Samuel holds a B.A in English & literature from the University of Benin. His works have been previously published in Suburban Review, Seventh Wave Magazine, North Dakota Quarterly, Quarterly West, Blood Orange Review, PORT Magazine, The Cordite Poetry Review, Gordon Square Review, Rough Cut Press, Trampset, Rigorous Magazine, Blue Nib journal, Stonecrop Review, The Elephant Magazine, Lunaris Review, Inverse Journal, Canyon Voices, The Collidescope, Journal Nine, Liquid Imagination, Star*Line Science Fiction & Poetry, Subterranean blue poetry, The Quills, Eunoia Review & elsewhere. Winner of the Canadian Open Drawer contest 2020. He won the Splendor of Dawn Poetry Contest April 2020, won the Bkpw Poetry Workshop Contest 2021, got shortlisted in the annual Poet's Choice award & was the second-prize winner of the EOPP 2019 contest. A longlist of the NSPP 2020 prize, & Pushcart Nominee. He is the author of Reopening of Wounds & Subject Lessons (forthcoming). He reads for U-Right Magazine. He tweets @Samuelsamba10.