Tenpin Buttons
Fantastic at what cannibal love story is found at Reddit
but, there will bean ending at Grandma's house in 1985.
The more I don't care, the more one of the most annoying
choices are presented to me, the peyote in one hole in one.
Bean ending?
Surely, the human bean.
The illiterate cactus button.
Some people come out strong talking hard of drugs they have never seen
experts in cold fusion theories of MK-Ultra politricks they do not understand.
Make website connections and social media collateral in tenderqueer tinpan
set blue Hello Kitty alarm clocks and doxx children and dragons in quotetweet tenpin
strike.
Tower of Babal, Children of the Earth
Digging translucent large heads through dirt and food,
mulch is good, in mulch we thrust, in mulch we trust, in much
much time we know growing is good
In our Earth, all your heroes will be blue in their alarm
the the the need for more non-Indigenous people to get involved
in racism in colonized places
In our Earth, the displacement is so anticipated
the removal of what lives in our Earth is expected
delays are irritations to the diggers and plowers
the strangers invading this dirt
Tick of Banks, Bellecourt, Thunderhawk.

All we have to live on is dirt and mulch and mulch goods.
Colonials talk of cactus buttons and bussed trips and
in Grandma's house in 1985 there was a revolution
a shower of swag in a cookie tin cascading AIM buttons
felt banners, old prayer ties and seed beads
Tick off Banks, Bellecourt, McCloud, Sanchez
Yellow, fat-legged crack-it of the Earth
Circuit of the urn in the good much of the dirt
in Grandma's house in 1985 in colonized places
there is, in the distance, in someone else's house
discussion of which genocidal white-run organization
has the better right to drive you all to death
while their proponents, on their off time, talk about peyote and timers
and those AIM buttons accrue scratches and fade
Tick off McCloud, Sanchez, Connie Redbird Uri.
They used to sell Native peoples on sterilization by saying they could remove the womb and later, when they felt like it, they could have a womb transplant.
January 2022 is the first time anyone received financial restitution for this crime.
While they talk about cactus button trips and the sacredity of fetus.
As much as fifty percent of Native people who had wombs, in the United States, living in the Twentieth Century, were sterilized. And, in other houses, not that far away, the conversation is still which genocidal white-run organization has a better right to drive you all to death.
What have are seed beads and old prayer ties in a cookie box in the shape of a circle.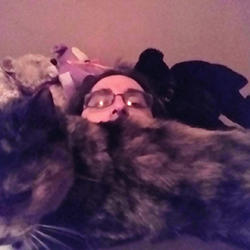 Travis Hedge Coke is a queer, mixed Native enby from North Carolina, living in California. The author of Us Living in Fictional Cosmogonies, Examining New X-Men, and the forthcoming, There Is Nothing Left to Say (On The Invisibles), and a former editor of Along the Chaparral, Future Earth Magazine, and About Place, Hedge Coke has been a guest presenter at Naropa University, University of California, Harbin Institute, and taught at Shandong University and University of Nebraska Kearney. They write a weekly column for Comic Watch called Patricia Highsmash.