Father and Son
My lost
daughter, I
would be
if you
let me.
Chest
hurts, sweat
smells sweeter.
New-old ache
deep
in my thighs.
Scrotum
shrinking
into ovaries.
Do what
I say.
Drink strong
coffee, kiss
your wife
on her hair, or
let me be
your lost father.
Let me be
your only daughter.
Commas (II)
"If" is to witness a person climbing a tree, always alert to the light touch of leaves running under her fingers.
Or the jealousy of hair. Shaking the last note out of the green guitar, expanding the muscles of the throat under a mirror of your ten-story window.
(She went through many voices to get here, but there is not here.)
Squished angles of the green guitar, splashing chords over the crowd. Pummeling down the attic stairs to the safety deposit box, sunshine a slowness of your eyes.
Now's a table makes its lightbulbs flicker fangs of pale bacon, metal spices whistle it quilt it shrouds the seasons for a moment.
Hover over a dictionary, the trees now more distinct. The first thing I noticed. The hair in the skin growing slower, the bones under the muscles no different.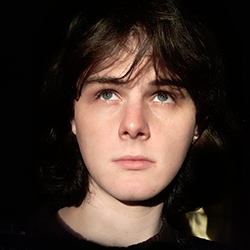 Robin Arble is a poet and writer from Western Massachusetts. Her poems and prose have appeared or are forthcoming in Oakland Arts Review, ALOCASIA, Door Is A Jar, Pøst-, One Art, Overheard Magazine, and Your Impossible Voice, among others. They are a poetry reader for Beaver Magazine and the Massachusetts Review. She studies literature and creative writing at Hampshire College.