creation
i am the rage that filled the furies with the knives they needed to slice apart their rare steaks. making oaths with bloodied tongues. i am the blow dealt by the ocean storm that drowned the shrimp boats. the anchor in your belly. the steel in your bones. i am the song that slammed your guitar on stage, met with rioting fans. i am god's right hand smiting the sodomists. i am the devil's disembodied lonely lovely yearning wings. the bullet in your rifle. the wooden handle of your hatchet. i am your sleep demon. the mirage in the darkness. the flash of terror upon waking. i will not offer you redemption. my rage made you worthy of love. i will get what i want, stepping over stuck limbs and snapping the bones of the men who deceived me. i am the fear and shock of saturn's salted children. i am the discarded muse that bore the world.
Two Years of Two Weeks to Stop the Spread
We lived in the movies we binge-watched,
eating adrenaline like m&ms,
hoarding vibrators, inhalers and ice cream.
We danced with people around the globe
through the blue lights of phones,
feet pumping on the hardwood.
I took a pounding in my Polish dress,
surged all over you, smooth and unyielding
in the choke of your moans.
We lay under the window listening to the song
of a night bird while the empty BART train
whooshed by, cool air gliding over our naked skin.
I kicked the dentist and the veil thinned,
wandering through baby books and dreams
until we finally drifted out of this unreality.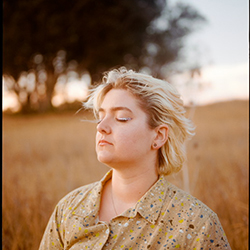 Josephine Raye Kelly is a queer femme living between the coast and the redwoods on the Pacific Coast. As a writer and multimedia artist, they create from the intersection of inspiration and compulsion. Josephine holds a BA in Literature from UC Santa Cruz and an MSW from Cal State East Bay. Their work has been published in Chinquapin Literary Magazine and The Richmond Anthology of Poetry. You can connect with them on Instagram @jrk.dreamscape.