Google Translate Parses Passages From Chapter One of My North Korean Refugee Grandfather's Autobiography
My heart still breaks at the thought of my sister who I am so thankful for.
becomes
I'm already dead, so I'm left with only regrets. Heaven with thanks
I wish you peace and happiness in Esau.
My mother was always very sympathetic, but one day, a close friend of mine went to the hospital.
He was infected with smallpox, a type 1 infectious disease at the time, and did not have time to try his hand.
He passed away two weeks later. It was so sudden and unexpected that I cried
didn't even come out. Even now, when I think about that time, I feel empty and empty.
The suffering was hard enough to describe, and it is still good in my eyes
The horror of Seoul, which was completely ashes even after the war ended.
It was.
At that time, in my dreams, I had nightmares of being tied to a rope and being dragged around every day.
dreamed together At that time, if you looked any smarter, you would be mocked as a rogue.
Many unfortunate people were sacrificed besides me.
When I arrived in Yeonan-eup, there was no place to accommodate it, so there was a water tank that stores water.
It was to put us all in. When we go in, there are people other than us.
It was too narrow and the air was so cloudy that I couldn't breathe. like that
Holding me from both sides and asking me to go together, I can't help but be dragged away
there was no They dragged me to a village called Ibangge, far from our house.
He went and told him to tell me where the reactionaries were.
was to be locked up.
After walking through the night, I arrived at the shore in front of Gyodong Island and waited until dawn.
I remember that it was December 20, 1951.
A small wooden boat came in rowing, and the four of us rode a boat.
We arrived safely at the tidal flat where the gu was visible. I'm so glad I met the savior
I cried.
I was released and I still can't forget the severe torture I had been subjected to for two days.
I don't have it, but I remember being hit so many times that I passed out several times.
Everything written here is an honest true story of my life.
again to my descendants
May there be no life of suffering like mine.
I would like to leave this record with earnest prayers.
Die Meistersinger
Long ago, my grandfather escapes from North Korea because he realizes the danger of staying in the village where he lives on the brink of war. Quietly, in the middle of the night, he drags a boat to the water with two other young men from his town, and they alone, family-less, set away. He arrives in what becomes South Korea and works in labor camps, the typical way to survive during the post-war reconstruction. After some time, he becomes an important freight-forwarding business owner, and I have magazines on my bookshelf with his wry, dry smile on the covers.
My father, his eldest son, a child, wants to play music rather than anything else. Before long, my grandfather finds out, and tears up all of his music books. My sister anthologizes this event in our reconstructed family history with a simple imagined declaration: It is not a man's job to play music.
My father listens to Die Meistersinger, a Wagner opera about guild singers from antiquity, in our house in the Chicago suburbs. After only so long, I learn about the Nazi's love of Wagner's music. My father listening to Die Meistersinger, Nazis burning paintings: a sort of Stockholm Syndrome tied to banning art that follows our family from Korea to Chicago, Evanston, the suburbs, chasing forever.
There's a painting in the SFMOMA by Anselm Kiefer with the words Die Meistersinger scrawled at the top. It's a blue painting of a field, with the canvas covered in straw. The clumps of straw that sit atop the paint are protrusions sagging out, like herniated sacs. Straw becomes organs, spilling out of itself and gushing red paint into other parts; straw creates autonomy, crafted through bloodless flesh. Circles of red and white lay silent next to phantasmic black splotches. Something floats out of the canvas, but I don't see it, I just feel some strange shaking in my arm from where it must have touched me.
These clumps are die meistersinger. They burn in secret and sing in the tempo marking langsam und schmachtend, which, my dad explained to me once, translates to slow and languishing. They perform in theaters as, elsewhere, what my father might have cherished is removed, slow and languishing, from memory.
My father is der meistersinger. In one dream I have, I see the painting, my father's face within the straw. He furrows his brows, as he always does, and twelve limbs of yellow stalk rupture from his body. He screeches, like a Francis Bacon painting, vaults towards me, and the last thing I see before awaking is blood, in the same red color as what hides behind the numbered cardboard of the painting.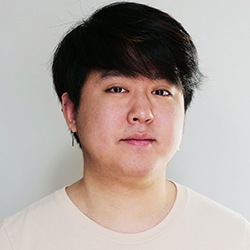 Young Fenimore Lee (they/them) is a Korean-American kid, poet, and music journalist residing in Brooklyn, NY, whose work has appeared in or is forthcoming in DIALOGIST, Cosmonauts Avenue, Entropy, and The Concrete Desert Review. Indie rock, emo, post-hardcore, and other music genres are important influences in their writing. They received their BA from Stanford University and are currently an MFA candidate at The New School.