CLOUD IN THE SHAPE OF A HUMAN
A local moazzin calls the faithful towards goodness as I step into the bathroom to masturbate. It's (possibly) the holiest night of the holiest month, & I feel vulgar. Often, I am disgusted by how much I think of god. How his blue-eyes will drown my sorrow. How his many-hands will cup my liquid body. His animal-wit will testify it was alright to not give up my small transgressions. I dislike thinking all this, especially among the moans & the oh yes!s & the fuck it, bastards & the croaking voices & the creaking beds & the wet grunts & the thumping of one softness into another—a blue wave pounding a rock. Oh! How I want to forget everything then, close my eyes & not have your face greet me with delight or even your soft flesh transforming into something tenderer—just a vast blueness of the sky, & I floating as if a cloud—an innocent child underneath calling her mama, look, mama, this one looks like me
TANGERINES
From god, we came. Whenever I come,
I think of god. Not in that godforsaken way,
more in that look what you made me do way.
It's true. I'm Taylor Swift for god. I create
music for which god never gives me credit.
To god we shall return. What is a turtle
without its shell? Free. More dexterous.
God created me a left-handed in a muslim
cunt-ry. It takes two to tango. Last winter,
we ate tangerines under the soothing gold.
The citrus made my tongue rub the roof
of my mouth. Or your mouth. Some times,

I can't even tell the difference. We spat
its seeds upon the sharp green blades,

made promises one can only make young.

Meanwhile, god hovered like a dragonfly,
swore upon the figs and the olives as if
they are staples. Meanwhile, I mourned
god's dead & ate the cheapest, damned fruit.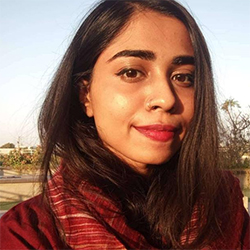 Javeria Hasnain is a Pakistani poet and a Fulbright scholar pursuing her MFA Poetry at The New School. Her poems have been published or are forthcoming in The Margins, The Aleph Review, Gutter magazine, Scrawl Place, and elsewhere. She currently lives in Brooklyn, NY.