Pag-alala kay Tamblot: Panunumpa ng Homo transisus
Pula;
                 dugo sa paligid
Kahel;
                 presong uniporme
Dilaw;
                 bumbilya sa taas
Berde;
                 lumot sa kulungan
Asul;
                 Nakalimutang langit
Tinà;
                 banyagang kulay
Lila;
                 panaginip na ubas
Ang Homo transisus ay hanggang trenta y dos lang nabubuhay. Sa
Earth-1 kung saan maraming balang ligaw at opinyong ligaw. Hindi
Nakatatagal ng hininga ang mga anak ng bahaghari. Inuubusan  ng
Paghinga at pahinga. Walang bubong ang mga utong nakalawit
Dinidilaan nang mga aninong delikdado. Sa talahib lang may pulso.
Ito ang buhay ng mga transisus. Noon–
Ngayon:
Ebolusyon, XX, YY, 23,64
Rebolusyon; giniba ang Earth-1; lumago ang pitong kulay;
Lumakas ang pag-alala. Hindi papayag malimutan. Nagmartsa ang transisus. 
Hinulma ang daan patungong Earth-147. Ang langit dito ay asul, rosas; nilinyahan ng 
Mga puting ulap sa gitna.
Sa mundong ito, lahat ng transisus ay may alagang bitwing-dragon,
Proteksyon laban sa mga ligaw na bala at ligaw na pagtinging ng nasyon.
Sa mundong ito, ang mga sarado ang isip ay naging android; matigas, mekanikal
Mekanismo ng diktaduryang estado na isinilang. Hanggang dito, may itim sa bahaghari
Monstroterte ang pangalan ng pasistang salamangkero. Gumawa siya ng aninong-espada
Gamit ang patak ng dugo ng bahaghari. Walang kabuluhan ang pananalita, nagsasalita ng limericks:
"May araw noon na dumating
Ang pinakamalakas na pwersa, panalangin.
Ngayon, ito ay pinaslang ng Homo Transisus
Estrogen,testes, kasuka-sukang pagkakaibang unos
Hulihin ang buwan, mga nahuhulog na bitwin nito'y durugin"
Lumaban ang mga 'di pangkaraniwan,
Inutusan ang kanilang mga dragon na lusubin ang palasyo
Sa kasukdulan ng labanan, nabuhay ang mga 
Ninuno ng transisus. Mga kaluluwang lumaban, nanatili.
Dumating ang personipikasyon ni Tamblot,
Ang babaylan na ginapi ang krus at espada
ng mga Kastilang dumating sa Bayang ina
Bitbit ang kaniyang bolo, umalingawngaw ang aral ng 1624:
"Tayong mga anak ng bahaghari, gusto nating mabuhay.
Mabuhay nang mahaba. Kaya ngayon na may sulyap nang pag-asa
Biyak sa kanilang hanay, lumaban tayo!"
Kilala ng mga Homo transisus ang tunay na kalaban,
Hindi ang mga mekanikal ang pag-iisip
Kung 'di ang nasa aninong langit
Monarkiyang pinag-iwananan na ng panahon
Ito ang panunumpa ng transisus:
Sa amin ang Earth-147. Ang ako ay kami.
Manganganak ang mga kulay:
Kulay-langit;
                Mananatili Kami
Rosas; 
                Mananatili kami
Kulay-langit;
                Kami'y mananatili
Rosas; 
                Kami ay nanatili,
Remembering Tamblot*: Oath of the Homo Transisus
Red;
                  blood everywhere
Orange; 
                  prisoner clothes
Yellow; 
                  light bulb above
Green; 
                  moss in cells
Blue;
                  forgotten sky
Indigo;
                  foreign color
Violet;
                  dreams of grapes
Homo transisus only lives for thirty-two years**. In
Earth-1 where there are stray bullets and stray views. 
The breath of children of the rainbow does not last. Left
With no breath, left with no rest. Nipples are not roofed;
Licked by perilous shadows. Life only pulses in the talahib***.
This is the life of a transisus. Then–
Now:
Evolution, XX, YY, 23, 64
Revolution, Earth-1 was demolished; the seven colors prospered
Remembering grew strong. Refusing to be forgotten. The transisus marched.
Forged the path towards Earth-147. The sky here is pale blue, pink; line with
White clouds in the middle.
In this realm, all transisus have a star-dragon familiar,
Protection against stray bullets and stray views of the nation.
In this realm, close minds became androids; stiff, mechanical
Mechanism of a birthed fascist state. Even here, black came to the rainbow
Monstroterte is the name of the fascist mage. He made a shadow-sword using
Blood drops from the rainbow. His speech was nonsense; spoke in limericks:
"There was once an old day
When the greatest power is to pray,
Now it has been butchered by the Homo transisus
Estrogen, testes, sickening  heterogeneous 
Catch the moon, its stars are falling prey"
Those who were uncommon fought,
Commanded their dragons to attack the palace
In the climax of the battle, the ancestors
Of the transisus lived. Souls that fought, souls that stayed.
Tamblot's personification arrived
the babaylan**** that waged war against the cross 
and sword of the Spaniards that arrived at their shores.
Carrying his bolo, lessons from 1624 echoed:
"We, the children of the rainbow, we like to live.
Live long. Now that there is a glimpse of hope,
A crack in their line, let us wage war!"
Homo transisus knows the true adversary,
It's not the mechanical perspectives
But those living up there in the shadow-sky
A monarchy stuck in time.
This is the oath of the transisus
Ours is Earth-147. I is we.
Colors will give birth.
Sky-blue;
                We will stay.
Pink;
                We will stay.
Sky-blue;
                We will stay
Pink;
                We stayed,
Glossary:
* Tamblot- the first recorded babaylan who fought the Spaniards during 1621-1622. Organized his people of Bohol, Visaya, Philippines.
** According to Psychologist Graciela Balestra, Transgender people only live a lifespan of 32 years because of hate crime and societal stigma. (https://www.npr.org/2012/10/01/162100680/no-more-lying-law-bolsters-transgender-argentines#:~:text=Psychologist%20Graciela%20Balestra%2C%20who%20works,32%20years%2C%22%20Balestra%20says.)
*** Talahib- tall grass. Colloquially understood as a place where hook-ups happen.
**** babaylan- a pre-colonial Philippine village shaman. Usually recorded in the Visayas. In charge of aiding the spirits and the supernatural. Traditionally women, but men can also have the role, often dressing up as female. Current study shows that these men were not just cross-dresser but were actually transgenders.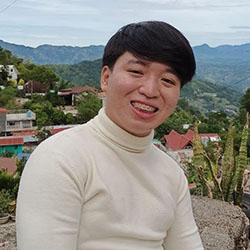 T.L Javier is a queer Christian writer from the province of Batangas, Philippines. He is a current lecturer at the University of the Philippines Baguio teaching language and literature, it is also where he graduated in 2019. Alongside teaching, he is also taking up his masters in Malikhaing Pagsulat (Creative Writing) in UP Diliman. He has been a fellow of various national writing workshops in the Philippines like the prestigious Palihang Rogelio Sicat 15 and the Teaching Philippine Queer Literature Workshop. Outside the academe, he spends his time as the Deputy National Spokesperson of the militant Christian organization Student Christian Movement of the Philippines (SCMP) and was also the founding chairperson of the LGBT+ org Bahaghari UP Baguio during his college years. In 2018, he was awarded the Ignite Brave Awards by Amnesty International Philippines for his works regarding human rights. He likes writing about the local gay experience, food literature, epic fantasies, and crime fiction. His first two works can be found in Likhaan.com. He also has a small vlog called Kwentong Santan (Santan Stories). He lives with his long time gay partner with their teenage cat named Appa "Zuko" Yipyip Pusheen.