The family fair in the parking lot of the large Texas grocery store was on, rickety roller coasters and such. Misha was giving head to his boyfriend behind a large ferris wheel. When Victor came on his brown face, the whiteness of the cum shimmered—no really, glistened as the carnival lights hit here and there, a lustful contrast of white and brown. Victor helps him clean up. Then lightly slaps his face, says good boy before walking out into the bouncing lights, among the families and cotton candy. Misha felt something drip from his throat down into the pit of his stomach that wasn't the fluid from his newly-minted boyfriend.
Misha saw some little flags, red or maybe light red, orange even but he saw past them and walked straight into a relationship. Victor was nice enough, his arms big and his lips soft. Misha enjoyed having sex with him. A new experience for him. The good sex. No more little shame creeping in after cumming. Just a small bliss. Goodness spotted in the distance. And that was enough for Misha.
In the car, Misha waits for Victor to say something. He doesn't. Misha knows that Victor often doesn't have much to say. That's what he says anyway. He just has a blank brain, free of anxious thoughts splashing around like children. Victor says he'll talk when he has something to say. And he doesn't mind listening. The last thing being a kind of good thing, a thing that, though actually bad and selfish, seems like a good thing and Victor knows that, he can get his way if it appears to be in good faith. As the houses pass, the convenience stores, the big highway leading from North to South, Misha says something about how the city used to be divided from East to West, that's why the highway's there. Victor smiles and says well, yes, that's because of racism.
Then, because he truly is trying to escape Misha (or his vision is failing), Victor hits the car in front of him. Misha looks at Victor's face and there are already tears welling close to the eye's edge. Misha and Victor get out of the car. Misha feels a little bit of his heart, for the first time in a long time. A waving feeling that pumps blood to everywhere, parts of the body almost forgotten about. The person in the other car opens their door, out comes Misha's therapist; Greg. Greg's eye sparkles. He smiles and looks at Misha. And then to Victor. And there is a slightest of frowns but Greg recovers.
Greg shakes Misha's hand. Misha introduces the two. Victor suddenly struck with words goes Ahhh, I'm sure you've heard a lot about me. And Greg makes a joke of it. Though, it's very true. Misha can't help but spend at least thirty minutes of their sessions talking about Victor. Though he could have spent time talking about his sexual assault or his absolutely shitty relationship with his parents and sister. His therapist reminds him that he's there to listen to whatever it is he wants to talk about. Misha hands over his credit card after every session and Greg pops it into his own credit card machine.
There was little damage. And the men huddle close, exchanging insurance information, phones clicking away. When Victor reaches the car, he sighs heavily. Misha only notices because this is the most energy he's expended since he came on his face. The ride home is short. They get into bed. And Victor goes to the bathroom. Where Misha can hear him jerking off. Misha barely moves, being the master of falling asleep, closes his eyes and fumbles into dreams.
Misha dreams that he is in a very high castle, like a maiden, a princess. He looks out onto his kingdom. There is almost nothing. Smoke rising in the East. He rings a bell and a small man comes, greets him, and puts a glass of water by his bed. The glass is modern. It's like the one Misha was drinking from earlier, in his quaint kitchen. He drinks all the water. He pulls a scroll from his mouth. He reads it. And it says nothing nothing nothing. He wakes. No revelations. No hidden psychology. Nothing changes.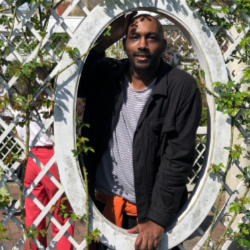 travis tate is a queer, Black playwright, poet, and performer living in Brooklyn. Their poetry has appeared in Borderlands: Texas Poetry Review, Underblong, Southern Humanities Review, Vassar Review, The Broiler, and Cosmonaut Avenue, among other journals. Their debut poetry collection, MAIDEN, was published on Vegetarian Alcoholic Press in June 2020. Queen of The Night has been produced at Dorset Theatre Festival and Victory Gardens Theatre. They earned an MFA from the Michener Center for Writers. You can find more about them at travisltate.com.