Aubade with Sugarcube of SSRIs
Because the night is a quiet horse, asleep
in the field, you notice the lonely
noises I make as I scratch my skin
bloody as I dream: please & who's there & the water
which, unhindered by my medicine-broken brain, flows
from closed eyes. Lover, it would be such a good night
mare: blood under my nails, scars hidden over time with hair.
The shiver which wanders my muscles from my nervous
mind. But if a foal is a sprinter, learning to stand,
let the way you touch me gently be the dreamer
learning to wake. The fields of sheets shiver
from the wind of the open window. Later, yes, I'm yours.
Your saddle. We ride. But for now, moon in the morning sky,
you steer these hooves to sweetgrass. You calm me free.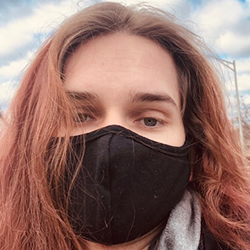 James O'Leary (they/them) is a bi, gender-fluid poet and writer from Arizona. James's work has been nominated for both the Best of the Net and the Pushcart Prize anthologies, and has appeared or is forthcoming in online and print publications including Frontier, The Indianapolis Review, and Foglifter. James holds an MFA from Sarah Lawrence College. You can find James on Twitter @thesundaypoet; they currently live in Orange County.