Young Lady on a Bus
America is born on an ancient Indian burial mound.
Aren't we all?
Young lady on a bus reading
popcorn, like cornbread and eating corn
was invented by white people when they discovered Indians
didn't know what to do with it.
In mysteriously cultivated gardens
– you might think someone turned this soil –
the bus goes down, downtown, sad.
Aren't we all?

"There's a green one," someone says
dun dun dundundun and someone else
takes a puff hidden in their cupped palms,
and says, "When did all our moms start working?" like this is new.
But our lady on the bus
– how's that? –
easy as a ten year thing going
out of bounds and heading out of town as fast as the bus seat will take her
is farther away any time.
Aren't we all?
"Send tits!" somebody says
from the cab of a truck going the other way
slow back into America.
Give it this: What America can't sex up it will parcel
and sell
or haven't you noticed what you pay now, someone will ask you to pay on again tomorrow?
Aren't we all?
The Purple Manner
Have you seen the well-designed door fob of the purple manner
in a thousand and four fractures of showy facet, hidden
in eleven countries of men's men and lady's women
Until it stops?
Hey cos hey cos
Hey cos you only gave us rights cos
Queer bars tend to the side entrance
Either by design of luck
Have you opened a door with the back of your shoulder
turned away to open and enter, kept your back to the door
your eye to the cautious street that clearly doubts you and
Given it all? I
either by luck of design
more hungry babies
dance across these floors every night
And to see it all sedated now erased how they do when they
erase everything you well someone worked for isn't
what is important not who worked what but someone
Some someone did?
Hey cos hey cos
Dancing up these floors every night
In eleven cautious countries of worker's rights
In eleven cautious countries of worker's rights
In eleven other countries in event nights
In a thousand and four hidden fractures of showy facet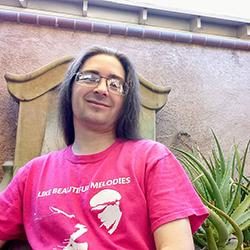 Travis Hedge Coke is a writer, editor, and teacher, working with Along the Chaparral to story interred veterans at the Riverside National Cemetery. The former writer of the Hugo-longlisted Pop Medicine column, they currently write for the weekly Patricia Highsmash, for Comic Watch.