Refraction, Also Berries
I.

This poem is a collaboration between the author and eir computer; a Markov chain process run on the author's previous poetry manuscripts and the outputs manually sorted and handpicked. It is thus an interaction between two stochastic processes: one on the author's hard disk and one in the author's brain.

The author confesses having used this technique in previously published poems. Speculation is welcome and endorsed.

II.

Never veins.

You need the simple, curled up insects
  your words await
in the vehicle
I would watch for heat, leaving who I am —

I cause pebbles
Please describe thwarted
Do not lore.

They ask me if I am turning
   increasing everything.

You can cry
    help;
      living weapon,
         alas, it is! all right to see flowers are possible;
edifices
in the entrance of your body, and the Academy.

Overhead
   it uncoils
to Talmud, transition.

We live and the fatigue inside this
is marking a home.

III.

Covered outputs creak.

I paint the luminous shame —
can you react
and whisper with a knife in hand?

I wonderstand — you don't know our mindset
    and if I could, I would —

why, come!
I am unknown.
All tears for the magic;
and for I am you,
would you do it?

IV.

We are still material,
it's par for the course.

Suppose it's for the recognition;
I am an invision display,
I am what a jellyfish is producing
and some kind of dimension gate
blessing you with words of speech.

We are less, we are real,
we constantly move away from pain.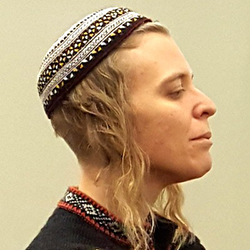 Bogi Takács is a Hungarian Jewish agender trans person (e/em/eir/emself or they pronouns), טומטום, and an immigrant to the US. E is a winner of the Lambda award for editing Transcendent 2: The Year's Best Transgender Speculative Fiction, and a finalist for the Hugo and Locus awards. Eir debut poetry collection Algorithmic Shapeshifting was published by Aqueduct, and eir debut short story collection The Trans Space Octopus Congregation—currently a Lambda award finalist—was published by Lethe Press, both in 2019. You can find Bogi talking about books at bogireadstheworld.com, and on various social media as @bogiperson.