[From fairest creatures we desire increase]
recites desire: runic frame (as of trees)—raw
bead rhymes their teeth—bone tug, ivy tear—
chamber he beauteously / dress it tepid
to see they shimmer, hiding her / ram rib
tits—heterocountry—hag-cub—bitchwood tune bent
weightless—us: fun filth / flat amethyst battlefield—
i am manic / naked / answerable—feign hue
to yellow cyst / housefly thefts—tree heft
warms heart—wrathful thorn neons to dot the
god or ash—tin daughter, lend any ply
bow / bend it to hunt—(hit)—new, synthetic ruin—
an unrewarding calm stings a knighted deer—
brittle pewter, holy stone, i gold shut
and throw these teeth—a duet—gravel—boyed.
[When forty winters shall beseige thy brow,]
gowns web—herb hysteria—let's thin flowery
then—gaudy bicep—insistent herd—leaf dyed
to holy doorway—hunt syrups—doze—given
that i swallow debt, let me whorl—feed lard
ill breath—they get eye winks—ale husband,
why taste harder (fault)—your sheets yell,
tan—(nude hyphen)—i knot woe; sinewy, it sees
fingernails (limp waters / a hand sea), leather sets,
meshes—hewed out virus—debauchery: try a mop
or a match—i hot—i lucid—i wonderflush—stiffens:
exoskeleton / cum—cuddly human mass—la,
sings a boyish brute in his coven—cut—yep,
hood him—we want a wren duet / to be shelter /
a trans thud / sob / melt—oh, welt / honeyed wife.
[Those hours, that with gentle work did frame]
shadow growth—softer hilt (kneed) / it hurt—
the reedy gazelle wove her vow—they eyed
me / ate salt—shy i try valley / wept thorn
/ hid hardware—chiffon, latex, a lacy hurt—
in (re)forming i elm—nude—meat: rots / severs—
fruited machines—noon herds—hit to wound
/ hunt / feed—wolves shred / squat—a clay tip—
a strawberry—boy head—we seed—even nouns
tire—metal tit / sin helmet—no furled snows
/ no sprawled frills—a lisp / a questioning—
eyeteeth wet by a sweatier ebb—cuff turf:
name it marrowbone—no errant switch—
i fold two twilights: dewy hush / belt hurt—
hues—resistible cloths—he wants bitter use.
Artist's Note:
HUNT: The Anagram Sonnets is a series of sonnets created using an anagramming tool and the source text of Shakespeare's sonnets to explore the violence and tenderness of kink and queer desire, especially trans and nonbinary desire, as well as the resonance many feel between queerness and the occult/pagan practice and symbolism. The rule I set for myself is that I anagram line-by-line, so each line of my conversion will have the same letters as the same line in the original Shakespearean sonnet.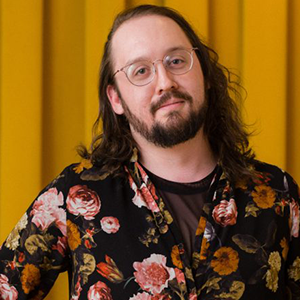 Trevor Ketner is the author of White Combine: A Portrait of Robert Rauschenberg (The Atlas Review, 2019), Negative of a Photo of Fire (Seven Kitchens Press, 2019), and Major Arcana: Minneapolis, winner of the Burnside Review Chapbook Contest judged by Diane Seuss. They have been or will be published in The Academy of American Poets' Poem-a-Day, Best New Poets, New England Review, Ninth Letter, West Branch, Pleiades, Diagram, Memorious, and elsewhere. Their essays and reviews can be found in The Kenyon Review, Boston Review, and Lambda Literary. They hold an MFA from the University of Minnesota and have been awarded fellowships from Poets House and Saltonstall Foundation for the Arts. They live in Manhattan with their husband and are the publisher and founder of Skull + Wind Press.